Friday was
Trophy Cupcake
day where we were on a mission for the limited edition chocolate-graham-marshmallow cupcakes. We went with Ann-Krestene, Jen, Rachel & their kids to get these pieces of m'fing heaven.
Here's the link
to the video of them being made on Martha Stewart, if you can be bothered. Ann-Krestene took these awesome pictures.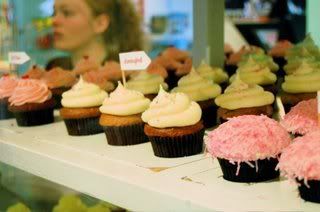 Then today after picking up daddy at the airport we went back to Trophy.