The urbandictionary definition today is IRS = income removal service. As in "the IRS folks tried to jack 5 grand off my bank account."
Here are a couple weekend Portland pictures from
Christina
& Peter's backyard.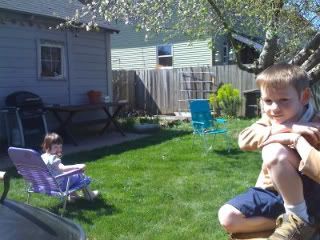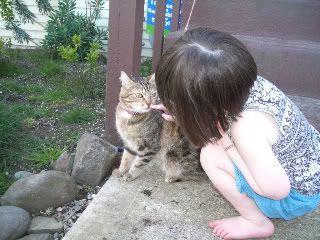 Shari
just sent me
this link for a bookholder
! Am I totally gay for wanting one? Is this the final frontier for the lazy American? All that strenuous reading I do.
It was my turn to read one of my stories last night in Group Counseling 'n' Friends which always makes me nervous but that's supposed to be good. My story was about people who have an utter resistance to having a relationship with me deeper than "how was your day at work?" Also at group I bawled my eyes out but I am extremely comfortable doing so with them now. I guess that's progress?
I think this weekend I'll take the kids to the Seattle Art Museum to see all the cars hanging frm the ceiling, and then we'll get strawberries at the market. Yesterday we went to the market and Lolly was in heaven sitting on David's shoulders eating a huge strawberry, then when she was done she chunked the stem into a trash can from way up high on his shoulders. She's the best.
I want to get Davy these Mark Nason shoes. I find them dapper.