I slept through my alarm and awoke to a frantic call from Carleen going "ARE YOU RIDING THE VANPOOL TODAY?" I said blearily "no, I'm riding the bus" and Carleen said "I didn't know that" and I said "I didn't either."
Last night David answered the door and there was a man standing there who said "Are you familiar with Dianetics?" David said "You mean the L. Ron Hubbard book?" The guy was glad to hear this, he said "Yes! What do you know about it?" and David said "I know that L. Ron Hubbard bought a million of his own book so it would make the best-seller lists" and the guy said cheerfully "That's true!" Then I forget what else was said but he ended up giving us a DVD on Scientology.
This Onion article
made me laugh and laugh and laugh. So did these
outtakes of newscaster bloopers
. I got an endorphin surge from laughing so much! The grape-stomping one kills me. Gawker also had a thing on the
Real Housewives of NY
. I am in love with that show and I want to hug and squeeze it. Music sweet music I wish I could caress with a kiss, manic depression frustrated mess.
American Idol last night! I just watched the beginnings of everything and then fastforwarded to what Simon would say. Paula looked pretty good actually. She had her hair up and was wearing a boob tray. I remember the Australian guy singing, I like him okay, he's one of the more likeable people on there. I don't remember what Simon said about him. Syesha sounded good but I got bored quick and Simon says that's bad. The dreds guy seems the nicest and I liked his little song, seemed like he was channeling Beirut with his ukelele but that's okay, and I think Simon liked that guy. Kristy Lee Cook looked super pretty last night but I got bored with her song too. Then the Irish girl's song was sort of annoying so I powered through that one and also my least favorite David, as usual I just got impatient with it. He's got that contrived quality to his voice, like Eddie Vedder. The blonde girl's song wasn't bad, she just personally doesn't seem like a lot of fun.
I just finished my April mix and
Chi
was nice enough to let me use her cute peapod-smelling-a-flower drawing (? is that a drawing? or some feat of magic?) as the little album cover.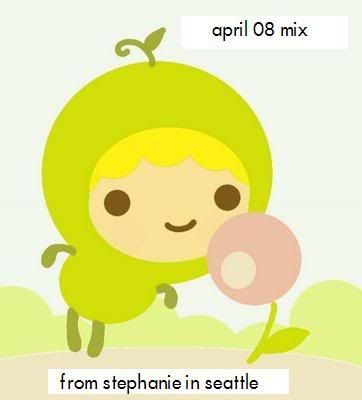 Here's the track list, written very very small:
Shopping Day - Tennis Pro
I'm Not Like Everybody Else - The Kinks
The Recycle Bin - Neil Hamburger
The Walking Song - Turtles
Cut Your Hair - Pavement
Balaclava - Arctic Monkeys
Lightening Strikes The Postman - Flaming Lips
Who? - Brian Jonestown Massacre
Now I Can Smile - The Minders
I Can't Believe - Apples In Stereo
Gypsum Oil Field Fire - Olivia Tremor Control
Diary of Wood - Circulatory System
Heavenly - Dandy Warhols
Be Kind + Remind - Rogue Wave
Don't Forget To Breathe - Beulah
Northeast Winter - Mazarin
Don't Call Me Whitney, Bobby - Islands
Hollow Little Reign - Supergrass
Gronlandic Edit - Of Montreal
Today (lullabye) - Michael Armstrong

Right now I'm listening to the news on Adam Carolla about an all-gay cemetery in Copehagen. Now how about that. What are YOU dong?
**I just remembered today is the day that General Lee surrendered to the North at the Appomatox courthouse. This day is a big deal in the south. My grammy grew up in Appomatox and she said they used to have the day off school. Surreal.