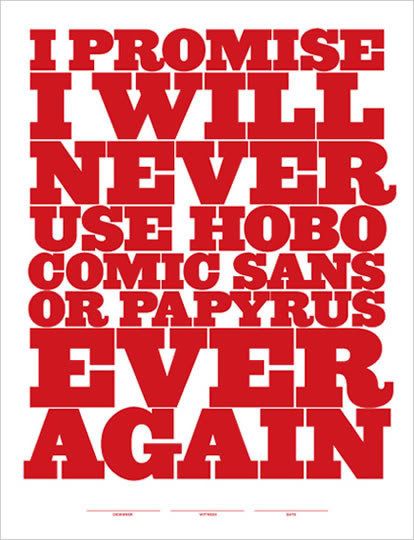 You too can take the pledge
here
. We have to spread the word about evil Papryus font, people.
Yesterday was Ash Wednesday and that means it's the beginning of Lent. I didn't grow up observing Lent, just Easter, so maybe that's why I love the idea of a ritual and symbols. (Today I listened to
this sermon
by our pastor on the sacraments of communion and what they symbolize and I just thought it was so meaningful and beautiful. The 2nd sermon is
here
, I guess it's a 2-sermon thingy.) I wanted to give up something for Lent but couldn't think of anything that I could cut out that wouldn't leave me bereft and foaming at the mouth. I thought about giving up coffee, makeup, internet, just parts of the internet like Facebook or Dlisted, some tv show, music, buying music, and just the idea of doing without any of those things made me feel panicked. It's like I need those distractions to freaking survive. The point of giving something up for Lent is to kind of surrender one of your distractions to become more aware of what you really
do
need. Not that there's anything wrong with fun distrations but I never separate myself from them to try to further my spiritual self, you know? So I want to do that during Lent. I finally decided to give up worrying for Lent. I spend a lot of time worrying and I think I actually enjoy it, because if a problem I'd been worrying about gets fixed, I look for other things to worry about. As if worrying about it can help. I think I feel like I have control over something if I'm stressing out over it somewhat. Really dumb, and I want to be more aware of that. So. No worrying till Easter. This ought to be interesting.
I like
this article
on Ash Wednesday by Brett McCracken and I liked this bit especially:
"I love Ash Wednesday for the way that it symbolizes—so concisely—what it means to be a Christian. It's not about being beautiful or powerful or triumphant; it's about being scarred and humbled and sacrificial. But it's not like this is a defeatist exercise in self-flagellation or something. No, on the contrary, to "give up" or "sacrifice" in the name of Christ is (or should be) the height of our joy. We should strive to be like Christ, "who for the joy set before him endured the cross, scorning its shame…" (Hebrews 12:2). For the joy set before him… That should be why we endure suffering and embrace self-denial. It's paradoxical and mysterious and counterintuitive—certainly. But when I feel those cold ashes spread across my forehead, it all makes some sort of wonderful sense.

Paul Tillich once said that "man's ultimate concern must be expressed symbolically, because symbolic language alone is able to express the ultimate." And I think in Christian sacraments and rituals (like communion, baptism, or the imposition of ashes), we can see how true this is. Ash Wednesday is more than just a day that follows Mardi Gras and kicks off the Christian period of Lent. It's a symbol that exists within and yet points beyond the materiality and ephemera of this place and this time to the transcendent and restorative oneness of the "ultimate concern" which is God Himself."
I have a lot of struggles with this God stuff but a lot of good things too surrounding this God stuff, and I don't want to put my struggles to the side. I want to press through along with them and acknowledge them, not try to bulldoze over them, but I want to take them along on my journey, you know? They're important to my story.
I think I'm in love with Nick Mitchell/Norman Gentle from American Idol. He's SO Richard Simmons.