Judah with his graduation-from-kindergarden cake. He asked for lemon-cherry-watermelon cake. We compromised with a yellow butter cake and cherries as decoration.
Lolly with her graduation-from-preschool cake. She asked for chocolate cake and frosting and yellow moon and stars on it. Moments after taking this she pitched a fit that the sprinkles fell off it. Three is the new two!
Carrie with Neil Hamburger. He is very apologetic when you meet him in person and says "I'm not really like that, you know."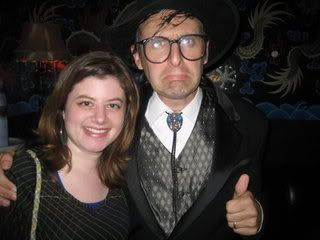 Judah with quarter he found & Weezer backstage pass, both equally exciting to him
David with Weezer at a radio thing
David doing a Liz Phair cover night. Hey, those are my red fishnets on arms and he's got on my knee socks! Thanks for stretching them out, butt nacho!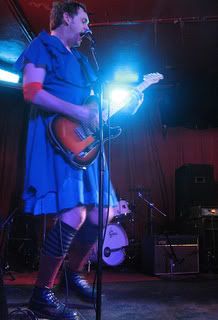 I did a bad scanning job, but I wanted to share the worst-ever picture on my new license. I look like I have spina bifida. My eyes look like they're looking in two different directions.
Then I got a bit better picture on my new work ID.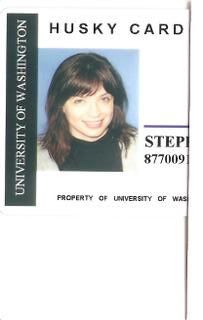 Here's Tennis Pro being cute