Simone & Rich was up here for the weekend and it was so much fun. They both happen to live in L.A. and they coincidentally came up the same weekend. We're still in grieving mode because they're gone. When Simone left, Judah was so sad he couldn't even say goodbye! Maybe I will get to visit her before the Supergrass west coast tour in July. We're going to all their shows out here, but if some financial miracle happens in the next couple of weeks I'll get to visit her in LA. We haven't gotten the George W. Bush Stimulates You check yet but it's already spoken for anyway. Money is such a pain. I wish I was an evolved Buddhist creature of no material desires, but I need retail therapy. And I need it now.
Simone is like an extended member of the family, except she's fun. Everyone clamors for her attention and company, Judah, Lolly, Davy & me. I sort of felt like the grouchy mommy half the time though since I was with my kids and had to reprimand and direct and clean and all that. I told her she was getting the full mommy experience because they wanted to 'play' first thing in the morning. David & Rich got back one night at 4 am and I heard the kids go into Rich's room at 7:30 am and play "In The Mood" at full volume on the synthesizer. I went in to rescue Rich just as Judah was putting his pinball game on Rich's chest with it making those ungodly pinball noises. So...official apology here to Rich & Simone. You are such good sports.
Lolly got a pecan stuck up her nose yesterday. David called me at work and I met him at the hospital. After wailing, bright lights and forceps, the pecan was out. She hollered another minute or so but then said "That didn't hurt at all!" and high-fived the doctor. Then we got ice cream. She is brave.
Here are some pictures from the weekend. Simone & Carrie are more fun than Taco Bell on the couch during a Real Housewives of NY marathon.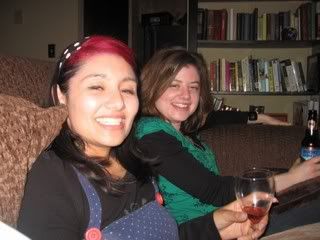 Reaction shot from "The Room"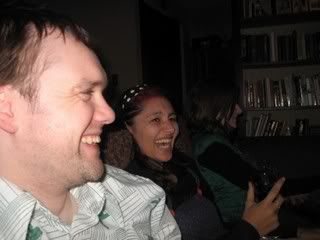 Rich was here too. We love him. He doesn't look like a pastor, does he?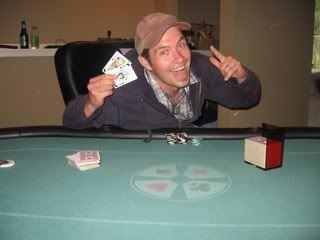 David & Phil.
Chet made this sign for his party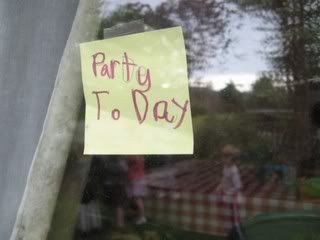 Chet & Flora are sweet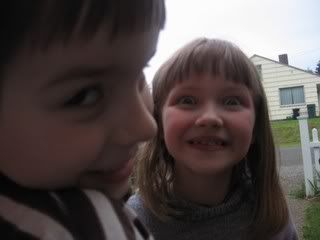 We went out for mothers day sushi.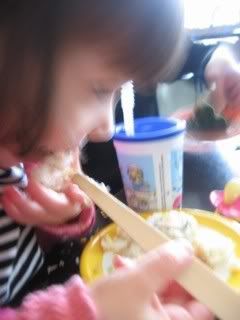 I'm special. I need a helmet instead of a crown.